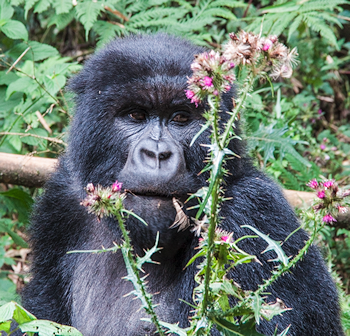 With only about 850 mountain gorillas left in the world, seeing them in the wild is something only a few people will ever have the chance to experience. This section will tell you where you can see mountain gorillas, where to stay, how much it costs, and help you choose the best safari company to go with.

Where Can You See Mountain Gorillas?
---
About 300 mountain gorillas inhabit an extinct volcanic region called the Virunga Range along the borders of Rwanda, Uganda and the Democratic Republic of Congo in East Africa. The other 350 or so mountain gorillas inhabit a nearby area of Bwindi in Uganda, a thick rainforest.

Uganda
---
There are two parks in Uganda, the Mgahinga Gorilla National Park and Bwindi Impenetrable National Park where you are able to go gorilla tracking.

Mgahinga is situated on the extreme southwest corner of Uganda on the slopes of the Virunga Mountains. It borders the DRC and Rwanda. The park only covers 28 square miles so it's quite small, but besides gorillas you can also see leopard, buffalo, bushbuck and golden monkeys.

Bwindi is in south-western Uganda and is home to about half of all mountain gorillas. The park covers about 200 square miles of extremely dense rainforest and is a proclaimed World Heritage site. Part of the fun of tracking gorillas here is trying to follow them through the dense foliage. You can also get to see chimpanzees as well as some spectacular bird life.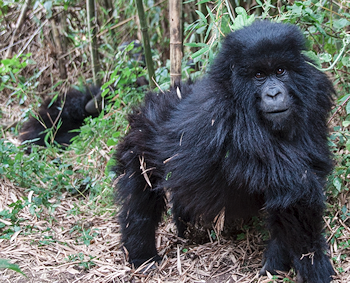 Rwanda
---
Rwanda has one park in the North of the country encompassing its share of the mountain gorilla population: the Virunga National Park or Parc National des Volcans (PNV). The park covers an area of about 46 square miles and encompasses six volcanoes. Despite the terrible genocide in the early 1990's the country is fairly stable and the park permit system is running smoothly. The PNV was where Dian Fossey set up her base and research center. Tracking gorillas in the PNV is slightly less strenuous than at Bwindi since the gorillas move around a little less. The more open terrain also allows more light for better photo opportunities than in Bwindi.

Democratic Republic of Congo
---
The DRC also has a section of the Virunga Mountains park called the Parc National des Virunga. However, the situation in the DRC is too unstable for anyone to really view the mountain gorillas at this time. This BBC news report shows the situation is quite dire for both people and animals and doesn't appear to be improving.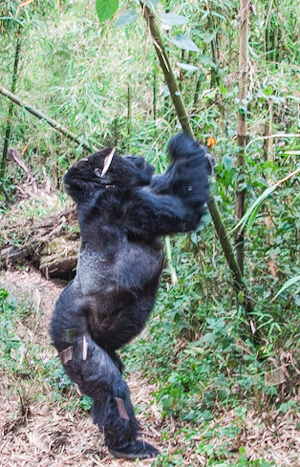 Tracking Mountain Gorillas
---
Getting to see gorillas is not easy, nor are you guaranteed to see them. The trek to where the gorilla groups live takes you through very dense vegetation, up steep slopes and can last several hours. Gorillas move around so they aren't all that easy to track. The gorillas you'll be meeting are habituated to humans which is why you are able to get quite close to them. Some basic rules of tracking gorillas include:
• You have to be over 15 years of age
• You can not be sick or have any infectious disease
• Only 1 hour is allowed with the gorillas at a distance of at least 5 metres
• Maximum number of visitors per day is 6-12 people per group
• No flash photography is allowed
• No eating or drinking in the vicinity of the gorillas
• No touching the gorillas (although they may decide to touch you)
• Trekkers must be fit and well equipped, which includes warm clothing for the wet
cool climate high in the mountains.

Gorilla Permits
---
You need an official permit handled by each of the national parks to see the gorillas. Usually you have to obtain these several months in advance. We obtain the necessary Gorilla Tracking Permits for you as part of our service ...

The cost of a Permit in Rwanda is USD $1,500.00 and in Uganda, USD $600.00 (per day per person). We do not add a surcharge to the cost of the Permit - the cost to you is what we pay the respective Government for your Permits.

Please remember that the Permits are not refundable. In an emergency we can try to resell the Permits for you, but there is no guarantee that we will be abl to do so.




We Accept Payments using Paypal






Boulevard De La Revolution • Kigali, Rwanda
Mail P.O. Box 5770 • Kigali, Rwanda
Telephone +250.255.108703 • Mobile +250.788.358982
E-mail info@gorillasafaris.com
© 2022 East Africa Eco-Explorer, All Rights Reserved